When we tell you about Jumia, Zalando or Lazada, the only common point you see between these platforms is that they are all marketplaces, but they share something else! All these platforms have been created by the same company Rocket Internet.
Rocket Internet was founded by the Samwer brothers, with the philosophy of creating and investing heavily in website copies that are viable and have high commercial potential. This business model has proven itself! Today some of their copies have become more influential than the original, like Zalando copy of Zappos.
3 brothers and a common story
Born four years apart, the Samwer brothers (Marc, Olivier and Alexandre) grew up in Cologne, Germany. Their ambition has always been to combine their individual strengths to create a company: "We always dreamed of creating a company when we were 12, 14 and 16 years old," says Marc.
Raised in a family of lawyers, their parents were their inspiration.
"Having your own law firm is like your father having his own bakery […] You learn at an early age how to work hard, how to have good years and bad years, how to serve clients [….] It's like going to a mini business school for entrepreneurship." – Oliver Samwer
It was in 1998, that they decided to move to Silicon Valley. Interns by day and binge watchers of entrepreneurial conferences by night. It was in this atmosphere of digital innovation and start-ups that their first clone, the Ebay marketplace, was born.
The 3 Samwer brothers, who were interns at Ebay, proposed to the company to launch the marketplace on the German market. Ebay answered negatively, but this answer did not stop the 3 brothers full of ambition. If Ebay didn't want to be part of the adventure, then they would launch the platform under their own name! And that's how Alando was born, a copy of Ebay.
Seeing the dazzling success of Alando in Germany, Ebay bought Alando for $53 million 100 days later and hired the Samwer brothers as general managers of Ebay Europe.
But the Samwer brothers didn't stop with the sale.
They understood that copying sites and launching them on markets that did not yet have access to the original could be very profitable. From there, their new business, Rocket Internet, was born.
The kings of cloning
In 2007, the Samwer brothers founded the Berlin-based Rocket Internet Holdings, which creates, incubates, and owns clone platforms, which they call "the United Nations of entrepreneurs."
Their business model? Copy a successful platform, launch it on a new market, invest massively in it, do an aggressive marketing campaign, and then resell the platform at a higher price to the site they copied. The goal is to launch platforms in markets that do not have access to the original platform.
During a presentation, one of their employees explained the process of building the Campsy platform, a copy of the French site "Camping and co" and the American site "HipCamp". He explained that normally, thanks to the Rocket Internet model, it takes them 100 days to launch a clone, but for this platform, it took them 28 days. They just had to change the code on one of their clone sites from Hotel.com. Today Campsy has suffered the same fate as Alando and merged with Camping and co.
Here are examples of marketplaces that Rocket Internet has launched: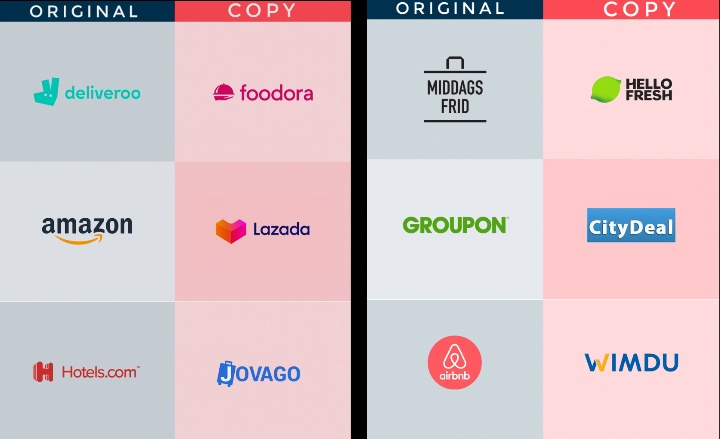 A global presence
Thanks to its business model, Rocket Internet manages to create successful platforms, some of which are become unicorns:
1. The famous Zalando platform, valued at several billion dollars and having surpassed the original Zappos .
2. Hellofresh, a copy of the Swedish Middags Frid and the American Blue Apron
3. Jumia, the African Amazon
4. Lazada, sold to alibaba for 1 billion dollars
5. GFG , Global Fashion Group, which owns sites operating in the Asian market ( Zalora, LaModa), South America ( Dafiti) and Australia ( The iconic).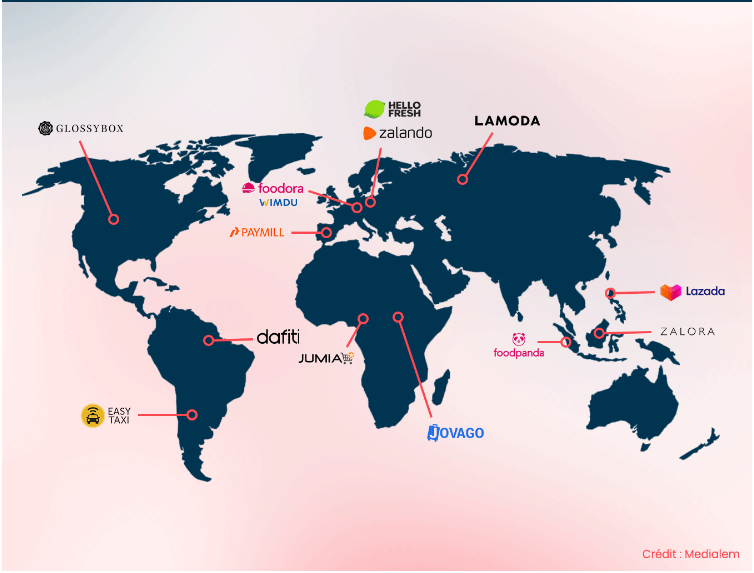 Conclusion
After the resale of a platform, Rocket Internet often remains a shareholder or continues to deal with the strategy of the platform. Today, thanks to its numerous platforms of connection, Rocket Internet is present on a worldwide scale and is considered as one of the references in terms of marketplace.