Home to products such as sculptures and handwritten recipes, Etsy is a marketplace for selling handmade items and crafts from individuals and professionals. While sites like Amazon and Alibaba have managed to establish themselves as the reference marketplaces for mass-produced goods, Etsy has found its niche by investing in the handmade and non-industrial market.
Genesis of the Etsy project
The Etsy platform was created by three young entrepreneurs (Robert Kalin, Chris Maguire and Haim Schoppik) in 2005. It all started when the three friends, amateur furniture makers, had enormous difficulties selling their wooden designs. To remedy their problem, they thought of a solution to make their handmade products more attractive and thus attract more people. The principle is simple but terribly effective: create a marketplace site that allows artisans from all over the world to display their creations and offer them for sale.
Once the idea was in place, Kalin decided to put a name to the project. The young entrepreneur was looking for an original and unique name. It was while watching the Italian movie "Eight and a half" by Fellini in its original version, which deals with the creative process that artists face, that Kalin decided to name his future marketplace Etsy. Indeed, it is from hearing the Italian phrase "eh si" in this movie that "Etsy" was born.

Launch of Etsy: immediate success!

In its first year, the site worked to continually improve and add new features to help sellers better display their products. After two years of existence, the success is there! Etsy has nearly 450,000 registered sellers who generate $26 million in annual sales. This craze for the platform can be explained by the originality of its concept. Indeed, even if its business model is simple, Etsy has some innovative features such as the authenticity of its products, the worldwide shipping of items sold or the presence of multiple payment methods: PayPal, credit card, Visa card, Etsy credits and Etsy gift cards, Apple Pay, Google Pay…etc..
As for the business model, in order for a seller to list his items on the site, he has to pay a listing fee which amounts to about $0.20 per item. In addition, Etsy takes a 6.5% commission on the amount of sales including VAT. Note that the commission is based on the total amount paid by the customer (including shipping and packaging) and not on the price of the product for sale, for more details you can read this article.

The community, one of the reasons for the success of Etsy.

Since its creation, Etsy has placed a particular importance on the notion of "community". To reinforce its closeness to its users, the marketplace often organizes entrepreneurship workshops (how to build your global micro-brand), tells all its users about the "best practices" used by Etsy sellers and gives advice on how to write an effective press release. In addition, Robert Kalin, Etsy's founder and CEO, has hired a half-dozen of the platform's top sellers to work directly for the company, in positions designed to spread their skills to as many sellers as possible. Some help run Etsy Labs, a community-focused program held at the company's headquarters that aims to teach craft skills.
Etsy's communicators quickly realized that joining a community is about making people feel like they share the same interests. Consequently, users involved in a community trust each other more, since they find themselves around common values. Also, Etsy has taken advantage of this situation by broadcasting the positive experiences of some of its sellers and by offering help to users, who then become gateways to reach other new sellers. Thus, thanks to this "human" aspect, well highlighted by Etsy's marketing strategy, the marketplace has gained credibility, visibility and notoriety. Thanks to this, Etsy has been able to develop a core of dedicated users who have actively helped to make the platform known throughout the world as a result of very effective word of mouth.
It is of course difficult to say that the community was the only parameter of Etsy's success. In sum, specialists agree that the success of Etsy is mainly due to five main factors:
– the simplicity of use
– the freedom given to sellers,
– the follow-up: Etsy's after-sales service offers different options to contact the support team (e-mail, chat and/or phone)
– the originality of the products sold (vintage products must be at least 20 years old)
– an active community.
Where is Etsy in 2022?

Etsy's market capitalization will reach more than 12 billion dollars in 2022, better than Zalando and Rakuten, to name a few leading marketplaces. However, Etsy is still far behind ecommerce giants such as Amazon, Alibaba, Meituan, Jingdong and Shopify. Moreover, Etsy's traffic statistics have improved significantly during 2022, greatly increasing profits.
As for the annual net income, the company reached $493 million in 2021. Looking at the sales statistics, there is a massive increase from the $349 million it made in 2020, which itself eclipsed the $95.89 million in 2019. This growth has allowed the startup to increase its workforce by 14.49%. Most employees are based in the United States, but the company also has offices in Ireland, Germany, Canada, Australia.
This internationalization of its workforce can also be seen in its salespeople. Indeed, 97% of Etsy's sellers manage their store from home, 38% of whom are not from the United States. In addition, following the Covid-19 pandemic, the number of sellers has increased by 60% from 2.7 million to 4.3 million people worldwide to reach 7.5 million in 2021.

Sites like Etsy

Amazon Handmade, a subsidiary of Amazon, allows artisans to sell their works made, modified or assembled by hand. In the same vein is Big Cartel, a web platform that has been in existence since 2005, offering artists and artisans the opportunity to sell their products online. Like Etsy, Big Cartel is an easy to access and simple to use marketplace. It is free and allows any artist to post their work internationally. It now has more than 250,000 virtual stores with artists registered from several countries around the globe.
Another competitor of Etsy, Zibbet is also a marketplace for creative entrepreneurs. It offers the opportunity to sell handmade products, including hand-modified or hand-assembled items, as well as vintage collectibles and handcrafted supplies. Selling on Zibbet works much like Amazon Handmade and Etsy where they can list their products for free and manage sales. But what really sets Zibbet apart from other marketplaces is that it's not just a sales channel. It's also a sales tool that allows you to manage Zibbet Marketplace, Stitch and Etsy stores in one place. The Zibbet platform even supports Facebook and Instagram stores, making cross-platform branding and management significantly easier.
Finally, a marketplace like Society6's also allows artists to make money with their own creations. The platform is unique in that it allows artists to retain their copyrights by uploading their designs or photos to the site.
Conclusion

All in all, here is what you need to remember about Etsy: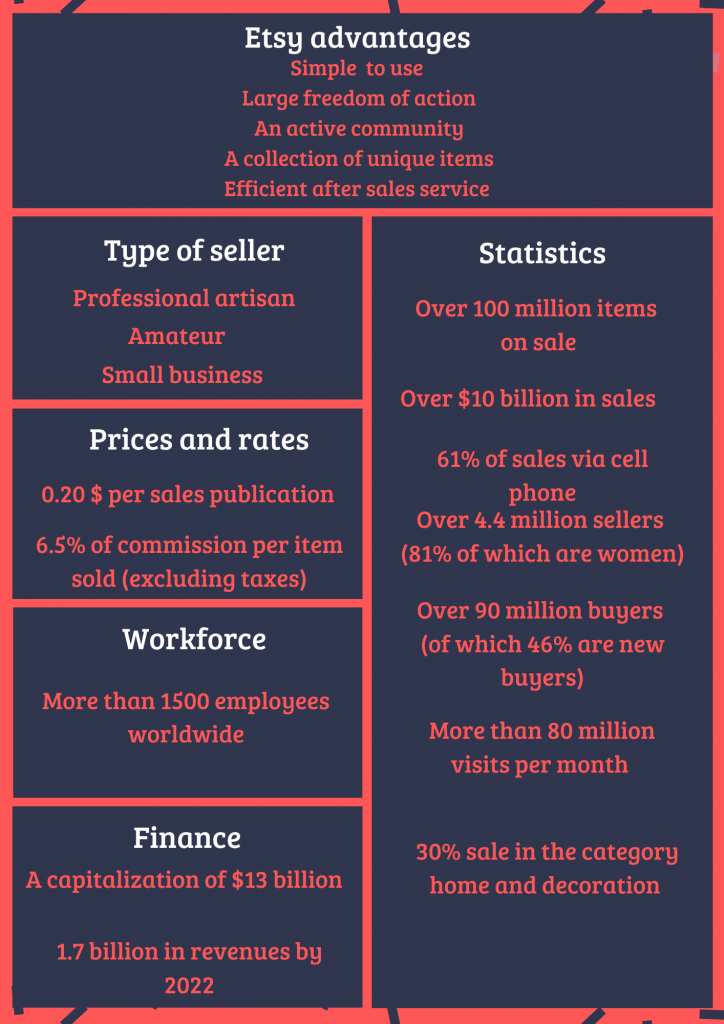 Etsy has been able to provide a platform that best meets its target customers (mostly women between the ages of 18 and 35). There is a massive audience, users are more willing to buy from small designers than they would be on a site like Amazon, as the focus is on trying to find handmade items by niche designers. The fees are also relatively low compared to other platforms. Plus, the ease of use can be very helpful for laymen.